The Amazon Prime Video series Good Omens – based on Neil Gaiman's and Terry Pratchett's fantasy book – has wrapped up its second series.
Good Omens season 1 covered the original book in its entirety, whilst this latest series went into uncharted territory for fans. Fortunately, audiences and critics alike have been pleased with the story that delved deep into the complexities of Heaven, Hell and the relationships surrounding them.
The season 2 finale was an explosive one, and has left many fans wondering whether Amazon will renew the show. If you're one of those, then we've rounded up what we know so far. We also have similar roundups for The Witcher, and the Amazon-led Lord of the Rings series.
Will there be a third season of Good Omens?
Possibly – Neil Gaiman has confirmed on Twitter that he already has the plot in mind, but ultimately it is up to Amazon to decide whether or not it gets renewed.
To be clear, Amazon Prime Video has not confirmed if there will be a Good Omens season 3.
If it does come to fruition, then Gaiman has stated that season 3 would be the end, bringing the show to a close.
When could Good Omens season 3 release?
Assuming that Good Omens does get renewed by Amazon (it is after all one of the platform's flagship shows), it is still hard to predict when a third season would be.
This is because of the Writers Guild of America strike, which has put a lot of the entertainment industry indefinitely on hold. Gaiman even states above that he would be writing it now if it weren't for this event.
Until studios reach a fair deal with strikers, we won't know for sure. It took around two years for the second season to release after going into production, and there was a four year wait between season one and two.
If studios reach a deal this year, giving time for the script to be written and shooting to be planned, the very earliest we are likely to see Good Omens season 3 is in the first half of 2026. That is straight from Gaiman himself on Tumblr.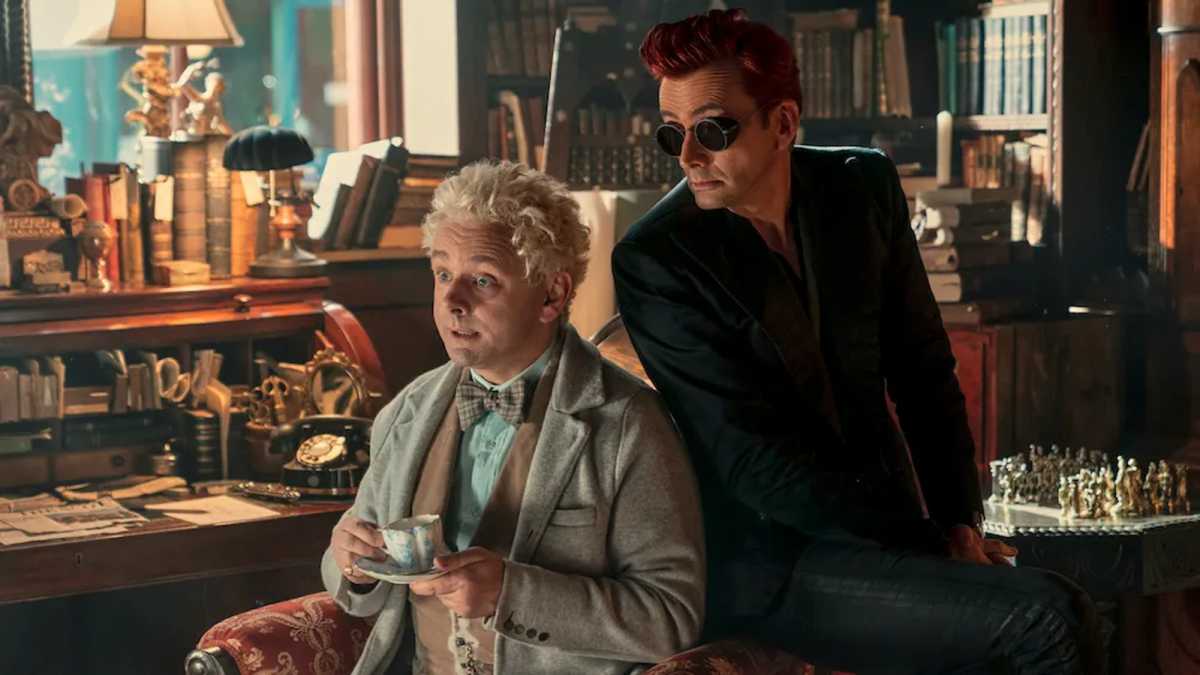 Amazon Prime Video
Good Omens 3 cast and crew – who is likely to return?
The show wouldn't be complete if it weren't for Michael Sheen and David Tennant, who we fully expect to reprise their roles as the angel Aziraphale and the demon Crowley respectively.
Whilst we don't know who else may return, here's a possible list of candidates:
Quelin Sepulveda as Muriel
Derek Jacobi as Metatron
Jon Hamm as Gabriel
Miranda Richardson as Shax
Gloria Obianyo as Uriel
Nina Sosanya as Nina
Maggie Service as Maggie
Liz Carr as Saraqael
Shelley Conn as Beelzebub
Reece Shearsmith as Furfur
Behind the scenes, Neil Gaiman is expected to once again pen the script.
Good Omens season 3 plot – what will happen to Aziraphale and Crowley?
Major spoilers for Good Omens season 2 below
Good Omens season 2 build up a beautiful relationship between Aziraphale and Crowley, only for things to come crashing down when Metatron (an angel and the spokesperson of God) entered the picture in the final episode.
After a heart-to-heart with Nina and Maggie (the couple that Crowley had been matchmaking for all season), the demon was ready to confess his feelings to his partner in crime, but the moment was unceremoniously spoilt by Aziraphale being given a surprise offer from Metatron: for Aziraphale to be promoted to Supreme Archangel, and for Crowley to have his wings restored to join the legions of Heaven.
Whilst Aziraphale was enthralled by the prospect of leading Heaven in his own way with his best friend at his side as an angel once again, Crowley was very much at the opposite end of the spectrum. He vehemently refused the angel's offer, leaving the pair at a stalemate.
Before he left for good, he parted ways with Aziraphale with a bitter goodbye kiss – fully confirming his feelings and heartbreak. Aziraphale left with Metatron in the elevator to Heaven, where his new boss revealed that the pair would be preparing for 'The Second Coming'.
The credits rolled on close-ups of Crowley and Aziraphale's heartbroken faces, as they went on with their respective lives.
Season 3 is likely to follow the pair after their parting. We'll get to see the ongoing plans in Heaven, and how Aziraphale will play a part in them as Supreme Archangel. If you're not familiar, The Second Coming belief that Jesus Christ will return to Earth, and many iterations depict Jesus separating people into good and evil ahead of the Apocalypse.
How Crowley plays a part in this is unknown, but a reunion between the pair is almost certainly on the cards – whether it be a happy one or not remains to be seen.
Many fans have ben upset and downright confused by Aziraphale's decision to leave Crowley for Heaven, but there is a theory rattling around the fandom…
What is the coffee theory in Good Omens?
When Metatron was first introduced on Earth, a great deal of attention was given to him buying a large oat milk latte with almond syrup which he then gave to Aziraphale (a known tea drinker, might I add).
Fans are speculating that Metatron has either poisoned or tainted the coffee, with some even claiming that they could hear the sound of a miracle being performed when he handed the drink over.
This is further supported by the name of Nina's coffee shop, 'Give Me Coffee or Give Me Death'. Aziraphale could be being manipulated to do Metatron's bidding. Whilst Good Omens hasn't specifically made Metatron out to be a villain yet, the character has known to have antagonist arcs in shows such as Supernatural and His Dark Materials.
Of course, this is just a theory. Aziraphale was shown throughout the season to be conflicted by what what is right and what is good, and so its not completely out of character for him to make the decision he did if he truly believed he was doing it to make the world a better place.
We won't know the angel's true intentions until season 3 lands on our screens.
How to watch Good Omens
All episodes of Good Omens season 1 and 2 are out now on Amazon Prime Video.
Amazon Prime Video costs either $8.99 per month for the streaming service, or £8.99/$14.99 for full Prime membership, which gives free next-day delivery and access to flash sales such as Prime Day.
You can sign up for a 30-day free trial over on the Amazon website.