After a little less than an hour playing with it, Razer's new Android-powered gaming hardware easily impresses – but I don't feel much closer to knowing who's going to buy one.
The Edge is a small, rectangular device with a 6.8in touchscreen, powered by a Qualcomm Snapdragon chip, and running on Android – but don't call it a phone, or at least not where a Razer rep can hear. 
Razer is adamant that the Edge is no mere smartphone (or tablet, for that matter), but a games console in its own right. It even ships with its own controller, but in fact this is simply a detachable gamepad accessory – an upgraded version of the longstanding Razer Kishi accessory (which is normally used with – you guessed it – a phone).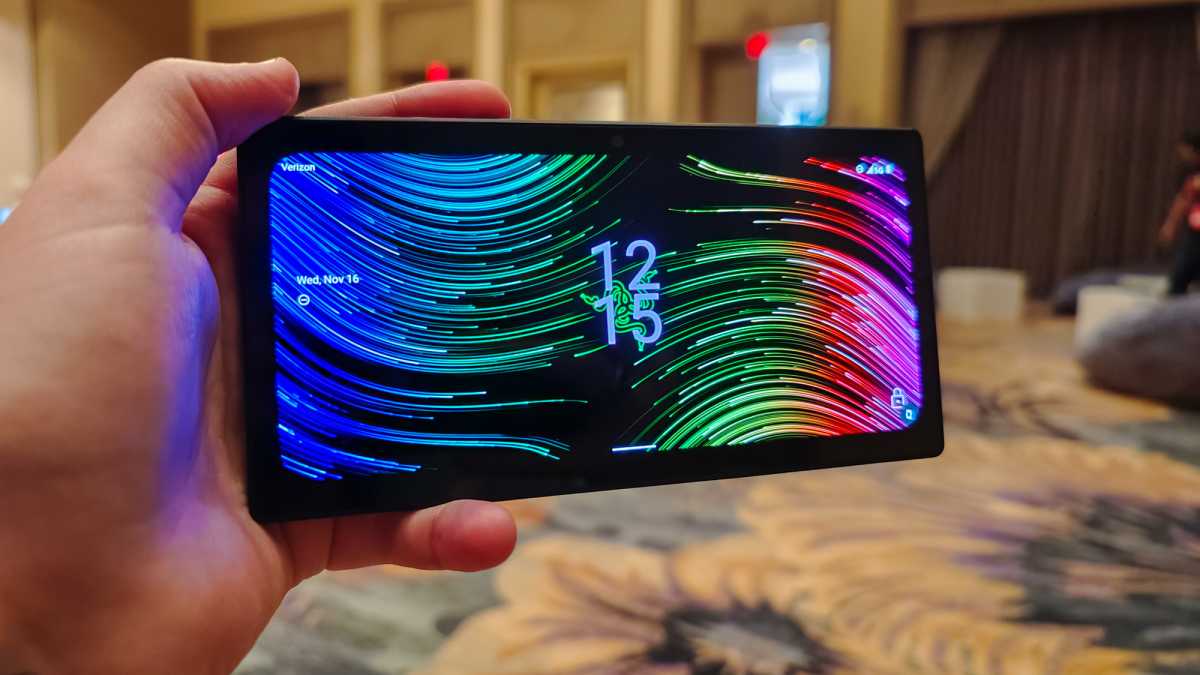 Dominic Preston / Foundry
I got to try the Edge out for myself at Qualcomm's Snapdragon Summit, a year on from when the two companies made waves by collaborating on developer kit hardware for the Snapdragon G3x Gen 1, the chip now found in the Edge. 
Razer's Will Powers is quick to distance the Edge – and in fact Razer itself – from that early hardware. He says Qualcomm handled the industrial design on the dev kit, and goes so far as to say he was "very pissed off" to even have the Razer name attached. 
There wasn't much wrong with that dev kit as a proof-of-concept, but it is fair to say that Razer has gone in a different direction with the Edge.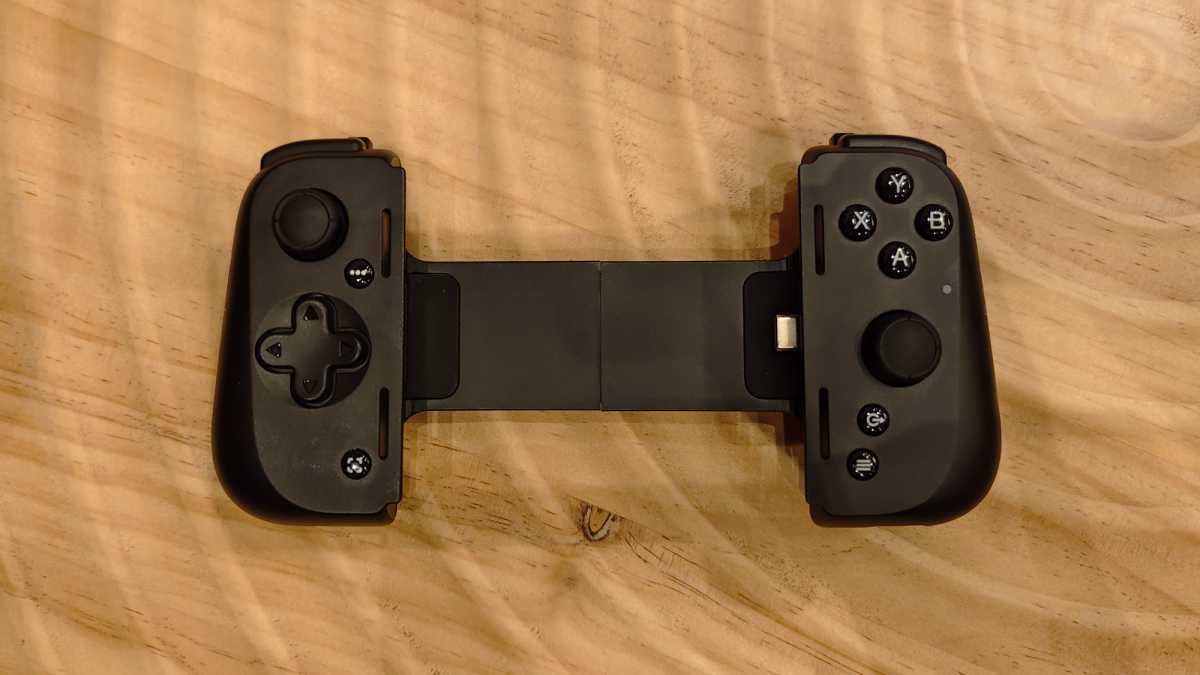 Dominic Preston / Foundry
The biggest change is the move to a discrete device with a detachable gamepad. You can't buy the Kishi V2 Pro elsewhere – for now – but the form factor is familiar enough, with a split gamepad that clamps to either side of the screen with the help of an extending rear pillar. 
The good news is that when fully assembled the Edge does feel surprisingly sturdy – you'll quickly forget it's technically split into two parts – and there's a seamless, smooth hand feel with satisfyingly clicky controls to the V2 Pro pad. 
The boxy edges and black design suggest a clear legacy from the two Razer Phones the company released a few years ago, though in fact the textured plastic finish and slightly curved rear reminded me most of the much older Google Nexus 7 tablet – a dated design, but by no means a bad one.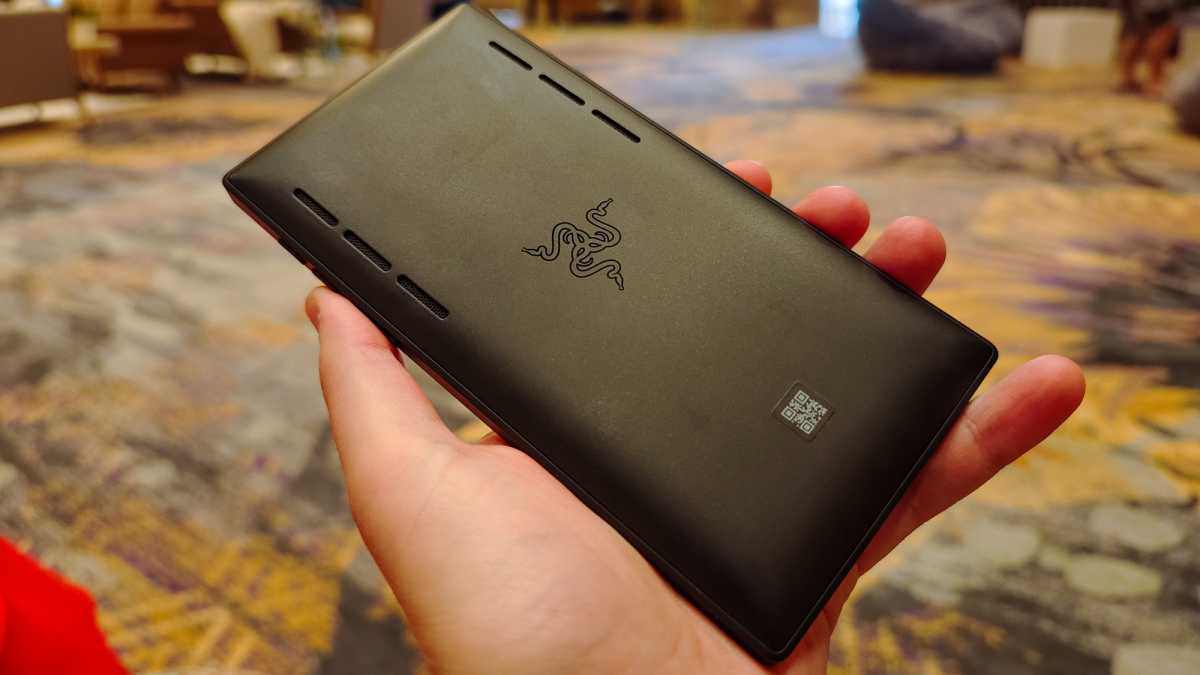 Dominic Preston / Foundry
With the tablet/phone element alone weighing 243g (with another 140g on top for the controller) it is surprisingly heavy – more than a Switch but lighter than the Steam Deck – but that plays a part in keeping it feeling premium. Gorilla Glass on the display will help protect from scratches, though Razer couldn't say which version of the protective glass it's using. 
The advantage of the split design is that the Edge breaks down to be more compact when you want to pack it away for travel, and also gives you a more natural form factor when you want to use the Edge to play regular Android games or (whisper it) just fire up some standard phone apps. 
That's because the Edge does just run Android. From a gaming perspective, that nets you access to all the usual Play Store apps, plenty of emulator options, and of course cloud gaming through the likes of Xbox Game Pass Ultimate and GeForce Now. Razer even goes to the trouble of pre-installing the Epic Games Store app, which is no longer available through the Play Store.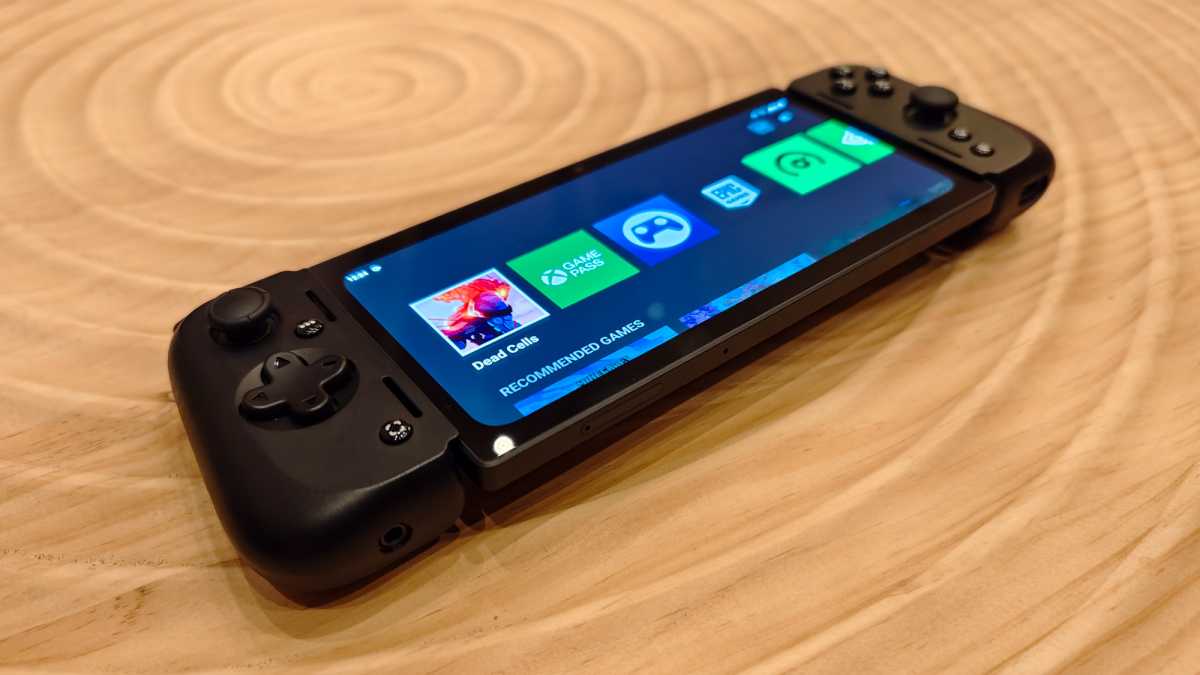 Dominic Preston / Foundry
It's easy to access various installed games or streaming services through Razer's custom Nexus dashboard, which you can jump to at any time with the press of a button. With chunky tiles for each game this has more in common with the Switch's software than your phones, and the emphasis is clearly on ease-of-use. 
More unique features include adjustable haptic intensity and remappable button inputs, along with the option to set which games (or other apps) appear in the Nexus interface. 
Take a peek behind the curtain and you'll find regular old Android 12 though (notably not the more recent Android 13 – and Razer is staying mum on its long-term software support too). That means the Edge can double as a compact tablet or a secondary phone, with nothing to stop you installing everything from Instagram to WhatsApp on here. 
Of course, that raises the spectre of the biggest challenge the Edge faces: why should anyone buy this rather than just grabbing a Kishi controller for their existing phone? 
Razer's argument for the Edge is threefold. First up, the Edge packs its own battery. The company is staying coy about exactly how long that 5000mAh cell should let you game for, but it's about the same size as a typical flagship phone, if not a little bigger, which should give you some idea. 
More importantly, it means you can game on the Edge without eating into your phone's battery – so instead of carrying a portable power bank around with you, you can just lug around a whole extra handheld instead.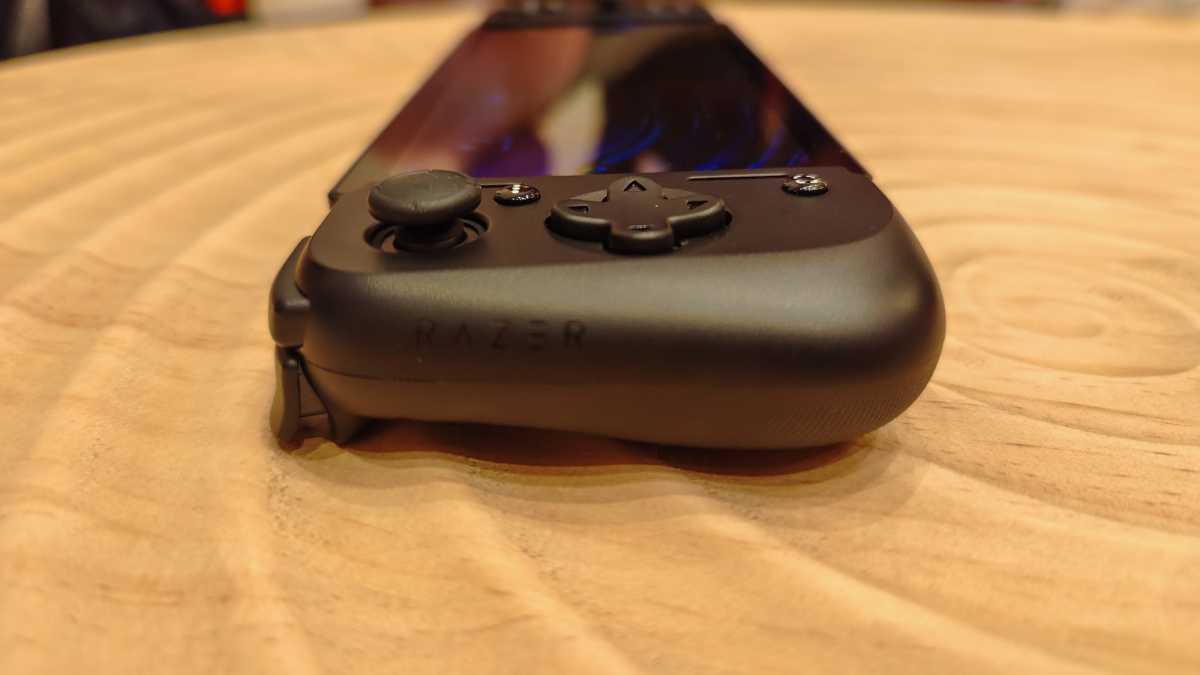 Dominic Preston / Foundry
Secondly, the company argues that by stripping out some of the features associated with a phone it's able to keep the Edge both focused and affordable.  
With no fingerprint sensor, only 128GB built-in storage (though you can expand this over microSD), and only a single 5Mp selfie camera, Razer has managed to keep the Wi-Fi version of the Edge down to just $400, half the price of a high-end handset.  
Of course, that's a moot point considering you presumably already own a phone. And anyway, you need one of those no matter what – so if you have a fixed budget, you'd get better return on a flagship phone and a Bluetooth controller than you would on a cheap phone and an Edge. 
Dominic Preston / Foundry
So it all comes down to argument number three: the Edge is simply better for gaming. 
Here, the key bottlenecks are networking (for cloud gaming), and processing power and cooling (for local stuff). 
The standard, $400 version of the Edge is Wi-Fi only, though does support the nippy Wi-Fi 6E standard. A 5G version is on the way too, but this will be a Verizon exclusive in the US, and there's so far no sign of either version launching elsewhere. 
To be honest, this one's a loss for the Edge: your phone has Wi-Fi too, it probably has 5G, and if you bought it in the last year it likely even supports those same 6E speeds over Wi-Fi. In fact, you could get a cheap 5G phone for less than the $400 price tag of the Wi-Fi Edge, and arguably have a better setup for cloud gaming right out of the gate. 
Then there's local gaming. The Edge is the first device to launch powered by the Snapdragon G3x Gen 1, a Qualcomm chip built specifically for gaming hardware. It's much more powerful than the basic Snapdragon 720G found in its closest direct rival, the Logitech G Cloud, which crucially lacks any 5G option at all. 
The G3x here should be on a par with flagship phones, though since it launched over a year ago based on the architecture of the Snapdragon 8 Gen 1 phone chip, it's actually not clear yet how it will hold up against the more recent Gen 2. Again, there's every chance that the latest phones will have the, ahem, edge.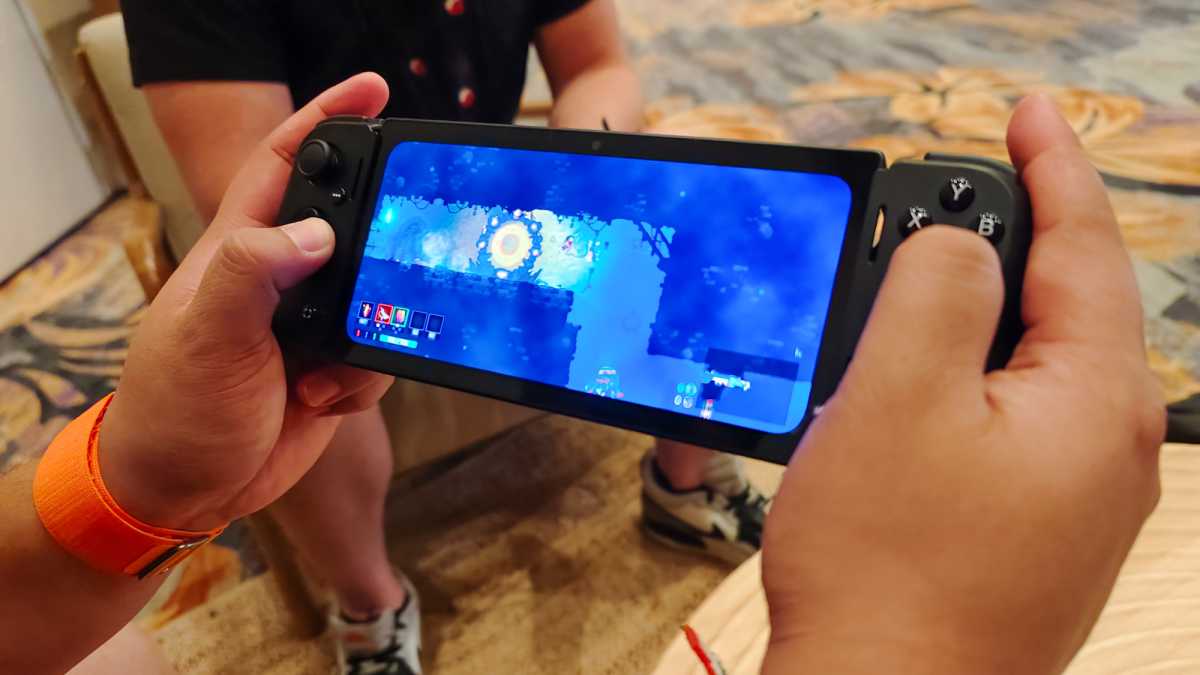 Dominic Preston / Foundry
Where Razer will win is on cooling. Unlike most phones the Edge includes an active cooling system, with six vents across the back of the body. In my time with the hardware – 45 minutes or so, a mix of gaming and browsing the OS – it certainly never ran hot, and I suspect even most gaming phones would struggle to keep pace with it. 
That means the Edge should be capable of playing the most demanding Android games smoothly, and for longer, and for some titles will no doubt make the most of its 144Hz refresh rate display. 
So who is the Edge for? Even after trying it myself, I'm still not sure. If the pitch is cloud gaming on the go, then there's nothing it does that your phone doesn't do just as well – grab yourself a good game pad instead and save a few hundred. 
If the focus is instead on playing the latest and greatest Android games at full performance then it fares better, and I suppose could pick up steam among the committed mobile gamers who can't quit bring themselves to use a bulky, garish gaming phone 24/7. 
What this isn't is a Steam Deck-style subversion, unlocking whole new ways to play. It doesn't do anything to break free of the software limits of Android or the hardware limits of the smartphone form factor. 
Razer is right: the Edge isn't a phone. But that reflects more on all the phone stuff it can't do than any gaming extras that it can.