Handheld games consoles are nothing new, but there's more options than ever in 2023.
Nintendo's Switch was the clear market leader for a while, but it's since been joined by alternatives from the likes of Valve (Steam Deck), Asus (ROG Ally) and Logitech (G Cloud). Plenty of smaller companies are making rivals of their own, while Qualcomm has launched a range of dedicated chips.
Sony is no stranger to handhelds, but its upcoming device will be the company's first attempt in well over a decade. It's also taking quite a different approach to many rivals – here's everything you need to know.
When will the PlayStation Portal be released?
Sony officially announced the Portal (known as the time as Project Q) at its PlayStation Showcase event on 24 May 2023. 
At the event, PlayStation CEO Jim Ryan said it will be launching "later this year". The official announcement tweet doesn't give much away, either:
Insider Gaming – a site that had correctly leaked details about the handheld prior to its announcement – reports that the hardware is "currently scheduled to release mid-late November 2023."
In an August 2023 blog post, Sony indicated that it would "have more details soon on when pre-orders begin".
Is PlayStation Portal the same as Project Q?
Yes. Project Q was the given name for the device at the initial announcement in May 2023, but it was always likely to change.
Instead, PlayStation Portal remote player will be its full, final name.
How much will the PlayStation Portal Cost?
In an August 2023 blog post, Sony confirmed pricing for the PlayStation Portal: $199.99/£199.99/€219.99.
For context, that's much cheaper than key rivals, including the Asus ROG Ally (from $699/£699), Logitech G Cloud ($349/£329) and Nintendo Switch ($299/£279). The Switch Lite is priced almost identically ($199/£199).
However, all four of those are standalone devices; to use the PlayStation Portal, you'll also need a PS5. If you don't already own one, prices start at $399/£389. Learn more in our separate article on where to buy the PS5.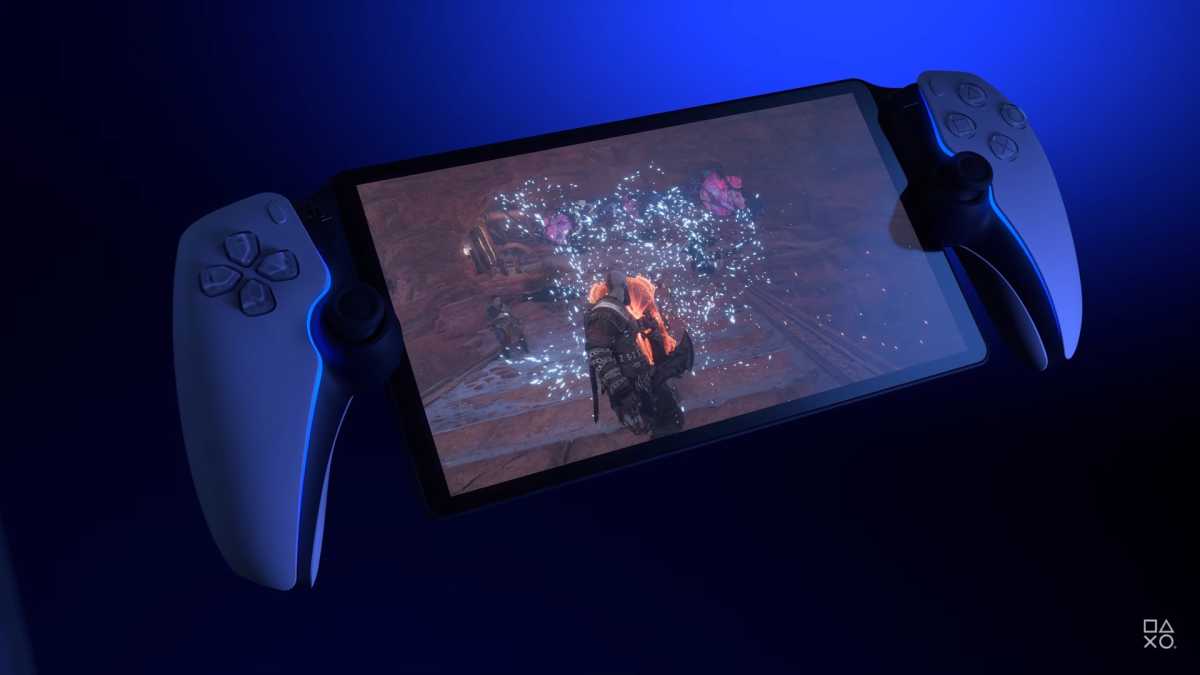 Sony
What about the PlayStation Portal design and specs?
The first key thing to note is that the PlayStation Portal won't be a standalone console. Instead, it'll allow you to stream games from your PS5 using Sony's existing Remote Play feature. 
While not explicitly stated, it's expected to only support Wi-Fi. There's a small chance of cellular support, but the main intent here seems to be an extra screen so that you can continue gaming at home while someone else takes over the TV. 
The design of the device itself is relatively straightforward. Essentially, you're looking at an 8in display with one half of the DualSense controller on either side – including the adaptive triggers, haptic feedback, and other unique features of the regular DualSense.
It's an LCD panel with an HD resolution, and Sony says it'll be capable of running 1080p games at up to 60fps. 
Here's a look at what you can expect: 
All PS5 games will be supported, aside from VR titles designed for the PlayStation VR2. All you'll need to do is make sure they're installed on the main console. 
In July 2023, @Zuby_Tech posted a leaked video and images of what appears to be the device on X (formerly Twitter). These first appeared on Imgur, before being unearthed by AyoadeNBN on Reddit.
It looked like we'd be getting a version of Android at that stage, but an IGN hands-on video confirms that it'll just be a smaller version of the PS5 home screen instead.
In the video above, we also get a look at the top, back and bottom of the device, but there's nothing particularly unexpected. Four extra buttons, microphones and speakers all look to be here, though.
A 3.5mm headphone jack will support wired headphones, but there's no Bluetooth support. Instead, you'll have to use a device which supports Sony's own PlayStation Link wireless technology, such as the new PlayStation Earbuds.
However, there are plenty of things we still don't know, including the processor, battery life (CNET says something similar to the DualSense 5 controllers seven to nine hours is the target), charging speeds and if there'll be a cellular option.
Of course, to get an idea of what the Portal experience will be like, you don't have to wait for the device itself to launch. Remote Play has been around for years, and is compatible with most smartphones, tablets, laptops and PCs.