USB dongles are the simplest way to add Wi-Fi to a PC or to upgrade an older laptop whose Wi-Fi is failing. They're generally affordable, though of course price is proportional to the speed and range you'll get from any given dongle.
Though Wi-Fi 6 has been around for a good few years, there's a surprisingly limited choice of Wi-Fi 6 USB dongles. The vast majority support the previous Wi-Fi 5 standard – also called 802.11ac.
The confusing part is that Wi-Fi 5 dongles can be at least as fast – if not quicker – than Wi-Fi 6 models. So don't make the mistake of expecting a huge speed boost if you buy a Wi-Fi 6 dongle. And, of course, remember that to use Wi-Fi 6 at all, your router needs to support this standard as well, otherwise it will use Wi-Fi 5 (or whatever your router supports).
Some PCs don't have Wi-Fi at all, and that's awkward if you don't want to use powerline network adapters or run a network cable from your router through your home to your PC in a different room. A USB Wi-Fi dongle is the obvious answer, as it means you don't have to open up the case and start poking around inside to plug in an expansion card. Do make sure your PC is within Wi-Fi range of your router before buying a Wi-Fi adapter for it.
To help you choose a dongle, we've rounded up the best adapters to buy, for all budgets. And if your old ISP-supplied router is getting long in the tooth and you want to upgrade that as well, here are our recommendations for the best routers and mesh Wi-Fi systems, with Wi-Fi 5 and Wi-Fi 6 options for each.
Best Wi-Fi USB adapters
1. TP-Link Archer T9UH: Best Overall Wi-Fi Dongle
Pros
Excellent speeds
Dock included
Cons
Not the best 2.4GHz performance
Price When Reviewed:

$72.99
For most people, the T9UH is the best Wi-Fi upgrade (or add-on if your PC doesn't have Wi-Fi at all). It might not support the latest Wi-Fi 6 standard but that doesn't really count against it because, in the topsy-turvy world of Wi-Fi, it actually offers faster speeds than D-Link's Wi-Fi 6 adapter.
True, those are theoretical speeds, but the point is, Wi-Fi 5 dongles can offer just as fast real-world speeds as Wi-Fi 6 in many homes. Not everyone has a Wi-Fi 6 router yet, nor enough Wi-Fi 6 devices to truly benefit from some of the clever tech that the standard offers.
On a practical note, the Archer T9UH features a fold-out design which opens to around 150mm long. Unlike the multi-appendage approach of the Asus USB-AC68, this has a hinged edge to the body that can almost fold in half. 
The design is for the dual-band antennas (2.4GHz @ 600Mb/s and 5GHz @ 1300Mb/s) with 802.11ac AC1900 support.
As is standard now with higher-end adapters, TP-Link supports beamforming which delivers more consistent performance, ideal for streaming HD and 4K media content, and USB 3.0 is required because of the higher throughput, so you'll get the best speeds if you connect it to a USB 3 port, not USB 2.
The T9UH also comes with a dock that allows it to be connected further away from your PC or laptop. The dock's 3m cable means you can position the adapter in the ideal place, which is handy if existing Wi-Fi connectivity is spotty in your location.
Speeds are excellent on 5GHz when connected to a suitable Wi-Fi 5 router, but there's not much point in spending this much if your laptop already has Wi-Fi 5 (802.11ac) Wi-Fi, or you're going to use it so far away from your router that it only ever runs on the 2.4GHz band, where performance is much less impressive.
2. D-Link DWA-X1850: Best-value Wi-Fi 6 Dongle
Pros
Doesn't obscure adjacent USB ports
Cons
Not the fastest kind of Wi-Fi 6
No dock / extension cable included
Price When Reviewed:

$59.99
For similar money to TP-Link's T9UH, D-Link's Wi-Fi 6 dongle offers slightly slower AX1800 speeds (as opposed to AC1900) but the benefits of Wi-Fi 6 such as MU-MIMO and OFDMA. This isn't the place to explain that jargon – you can read more about it in our Wi-Fi 6 guide – and the fact is, while they're great to have, they don't really offer much in the way of real-world benefits – yet.
Obviously, you have to have a Wi-Fi 6 router or mesh network for the DWA-X1850 to actually use Wi-Fi 6, otherwise it will fall back to Wi-Fi 5 or whatever standard your router used. And you'll need to plug is into a USB 3 port on your  laptop or PC to get the fastest speeds. 
None of this means D-Link's dongle is bad. It's good value at this price, offers great speeds that will be far in excess of most homes' broadband connection and is a good future-proof choice for when your home has lots of  other Wi-Fi 6 devices in use.
For those in the know, AX1800 is quite a few steps down from the fastest Wi-Fi 6 speeds, but right now you can't buy a faster Wi-Fi 6 USB dongle: the DWA-X1850 is the same standard as the Plugable and Asus USB-AX56 below.
Do note that this works with Windows only – not macOS.
3. Plugable USB 3.0 Wi-Fi 6 AX1800 Wireless Adapter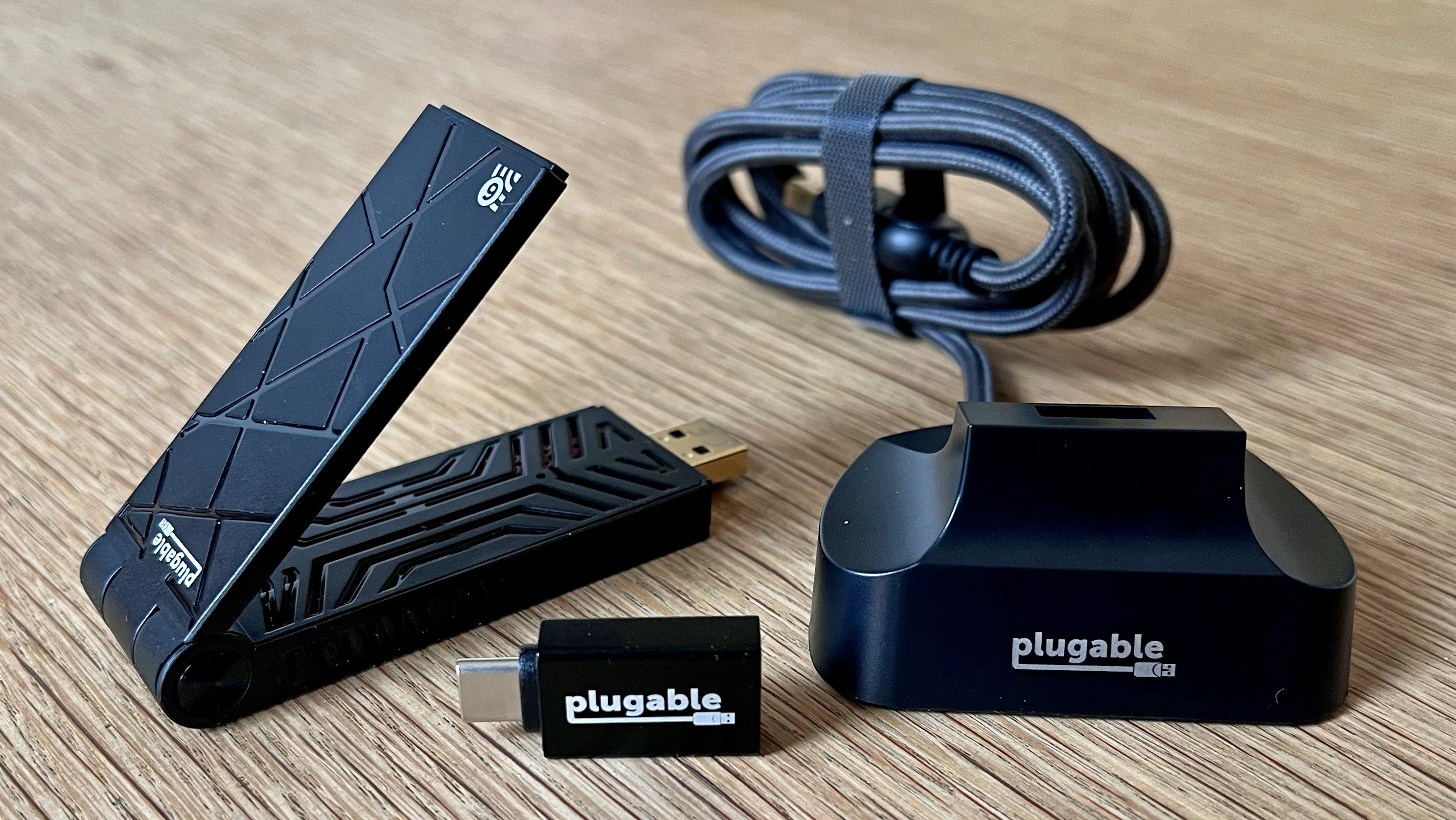 Pros
Good value
Comes with cradle and USB-C adapter
Price When Reviewed:

$39.95
Wi-Fi 6 USB dongles are slowly becoming more common – and more affordable. Plugable's USB Wi-Fi 6 Adapter is an AX1800 device offering up to 573.5Mbps over 2.4GHz and 1201Mbps on 5GHz. Those are theoretical maximums, but with real-world speeds of around 500-600Mbps, it should be a decent upgrade for a lot of PCs and laptops.
Like the D-Link and Asus, the Plugable is for Windows 10 and 11 – it doesn't work on Macs or Linux.
In the box you get a cradle with a 45in (115cm) cable that's not just useful for positioning the antenna in the optimal spot but also helps to avoid interference with other ports on your laptop or PC. There's also an adapter so you can plug the cradle or dongle into a USB-C port.
The folding design means you can adjust the angle or the antenna to face your router, although the fact it's omnidirectional means it shouldn't really matter which way it's facing.
This is a USB 3 dongle, so you should connect it to a USB 3 port for the best performance.
It's great value at under $40, but it's only available in the US.
4. Asus USB-AX56: Best Wi-Fi 6 Dongle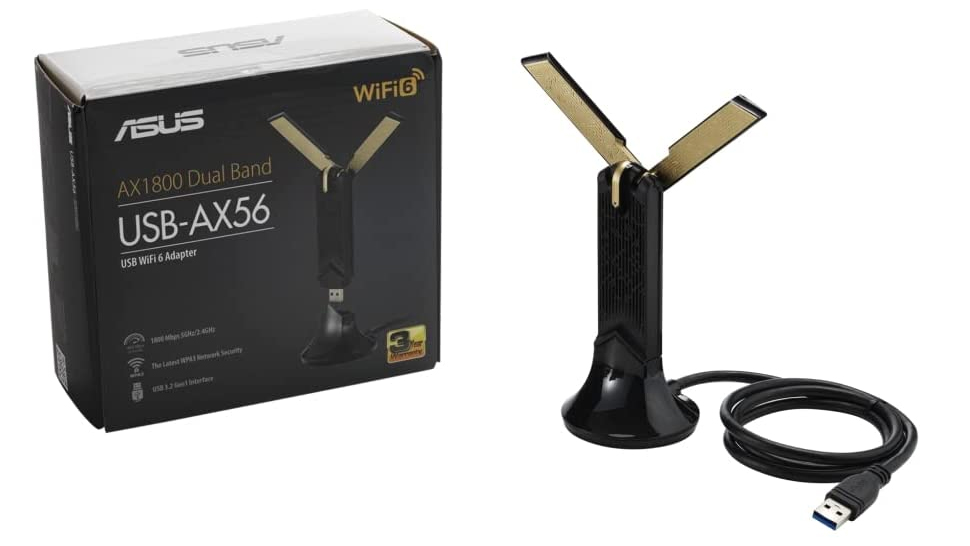 Pros
Fast USB 3.2 Gen 1 interface
Price When Reviewed:

$129.99
Alongside the wealth of features that Asus has packed into the sleek frame of the USB-AX56 adapter, there's also the bonus of feeling like a secret agent on some covert mission thanks to the unfolding design.
Plug the device into your PC then carefully open up the twin gold-antenna arms, or sit the adapter in the included desktop cradle, and it seems like you're about to send highly classified information back to Control.
Teenage fantasies aside, this Wi-Fi dongle that can bring your humble old laptop instantly up to the Wi-Fi 6 AX1800 standard. Like the D-Link, those speeds may not be the fastest Wi-Fi 6 can deliver, but the standard brings support for MU-MIMO and OFDMA to ensure a strong and stable connection to the network, and supports the latest WPA3 security.
The USB 3.2 Gen 1 interface means you'll not be slowed down by local data transfer rates – so make sure your laptop or PC has a compatible USB 3 port, otherwise you won't gain the benefit.
It's a little bigger than some of its rivals, mainly when the antennas are deployed, but the AX56 is still small enough to put in your pocket.
5. Foktech Wi-Fi Dongle: Best Value
You might think we've included this one just because of its hilarious name, but that's only partly true. If you're looking for a small, unobtrusive way to add basic Wi-Fi to your laptop, then the Foktech dongle is an excellent candidate. 
It supports 802.11ac AC600, offering speeds of 150Mb/s @ 2.4GHz and 433Mb/s @ 5GHz. Because of this, it uses USB 2.0 as there's no need to go any faster.
This means it isn't the fastest Wi-Fi dongle but as an inexpensive way to get online wirelessly, do some shopping, social media, and streaming video (or making Zoom calls) up to HD quality it will be fine.
The low price is of course the main draw, as is the compact design that makes the dongle something you can leave plugged into your laptop without worrying about breaking it.
US readers can't buy it under the Foktech brand, but can opt for the USBNovel dongle which shares the same design and features.
6. Netgear A6100-100PES: Best Value Big-Brand Dongle
Another small-form adapters, Netgear is a well-established name in Wi-Fi routers and networking. This diminutive construction houses antennas for 2.4GHz (150Mb/s) and 5GHz (433Mb/s) – that's the Wi-Fi 5 AC600 specification.
Data transfer, then, is quite a bit slower than the fastest dongles out there and that's why Netgear has gone for USB 2.0 rather than USB 3.0, but the inclusion of Beamforming+ gives the A6100 the ability to keep solid connections in challenging environments. 
It's affordable, too, but not easily available in the US, sadly.